Said nobody ever.... until now! ;-)
These days are a flurry. I keep well-intentioned to-do lists with a prominent line item to update this blog with recipes, travel stories and garden eulogies. Believe me, I have a fair backlog of potential posts collecting pixel dust in my vintage computer (2013 iMac!) and well, overloading its pre-historic cache! But, between desire and will to actually sit down in front of the computer is an ever widening gap.
The garden of course takes a lot of my attention, time and effort. I try to get some weeding and planting before the sun gets too high in the sky. Then I come out to check on it in early afternoon to see if the plants look thirsty and then again in the evening just to see how things have fared over the day. Truth is, I prowl around it many times to dissuade the varmints and potential nibblers. But, I do think, this much tending is required. I, honestly don't know what I'll do when I go away on vacation! I will probably have to bribe some friends to keep eye on my littles...! Truth though, is that I absolutely delight in spending time outside working with the plants, digging in the soil, saying hello to the earthworms, waging a battle with burrowing frenemies, and all that. It is an therapeutic indulgence. So, forgive me, dear reader, I do choose the garden at the moment.....
Then there is everything else that comes with better weather - more socializing, more wanting to be outside, more really seeking a laid back enjoyment. Yet, I do cook and bake a fair bit and shoot most of what happens in the kitchen as well. It just doesn't make it here as frequently as you'd like and I plan for. This post for example was scheduled to be written and posted last weekend, in time for Memorial Day. It is another matter that the Day was actually quite a cool and damp one... Nevertheless, here we are, a week later but still in good time for Summer! :)
This drink is loosely based on many homemade concoctions crafted by Indian mothers to keep their kids cool over summer vacation and its inevitable all-day games in the heat. Jal Jeera is a common drink that is served to kids and adults alike and often as a welcome drink to visiting guests in Summer. The core flavors are sweet and sour, a combination that works well in the heat - the sour making the body sweat and the sweet balancing off the flavor notes. The sour in the case is usually some tart fruit powder, like amchur, which is a dried raw mango powder.
In the South, where tamarind is more prevalent, it is used rather than the raw mango powder. Tamarind is a common spice you see in Indian and Asian cuisine, especially those closer to the Equinox. It is used in its paste form in several curries (including this crab curry). It is typically added in the end to finish the sour note, much like vinegar is added. You don't boil it too much, lest it becomes bitter. In the right amount, it lends a subtle sourness that instantly makes your mouth water and want to eat more. A sneaky thing, this spice!
So, I basically took that more-ish tanginess and balanced with sweetened syrup, soothing lemon balm and refreshing citrus to make this Summer Cooler that would be great with a barbeque, sitting under the shade of a tree reading a book or just served from a big pitcher whilst sitting on the porch/stoop and seeing the world pass by....
Tamarind and Lemon Balm Summer Coolers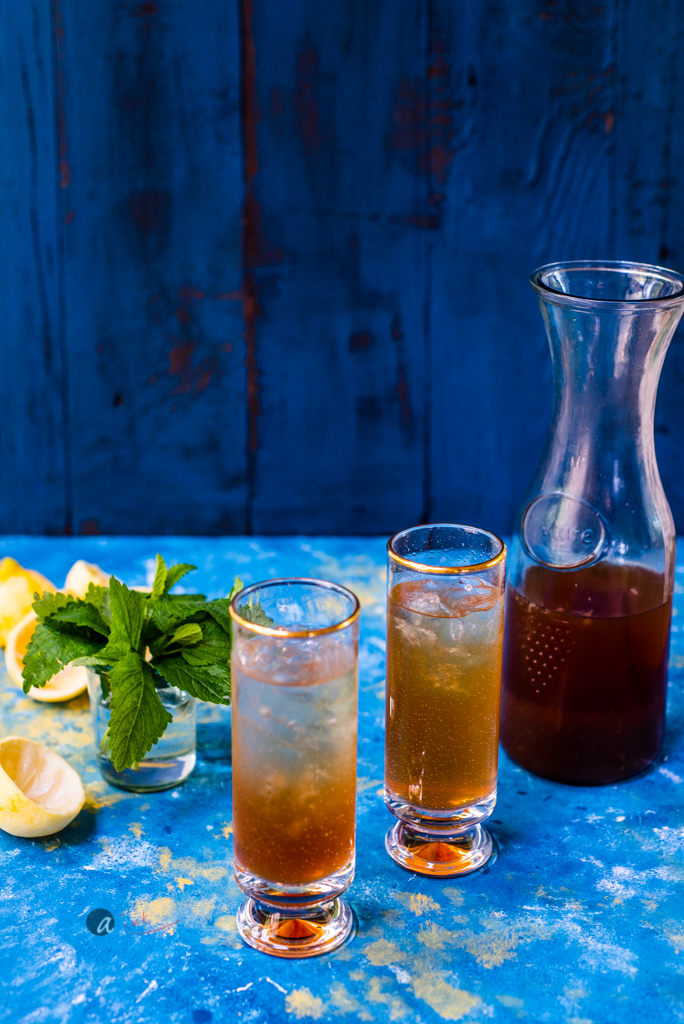 1 golf ball size dry tamarind block
1 cup hot water
1/2 cup lemon juice
1/2 cup brown sugar simple syrup (made with equal parts water and light brown sugar heated to syrup)
4 cups of water
a handful of lemon balm or mint leaves
Add the tamarind to the cup of hot water and let it sit for 10 or so minutes until it softens.
When cool enough to handle, use your fingers to knead the softened tamarind and squeeze out the pulp. Discard any fibers and/or seeds.
Mix all the ingredients, other than the leaves. Taste to adjust for balance.
When happy, add the leaves in whole and leave it to steep in the fridge for a couple of hours before serving.